TWD #19 Embracing the Next 'Forever Home' – Step Three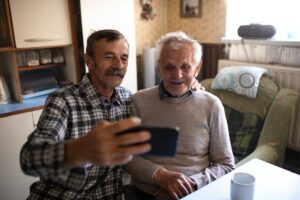 Hello, dear readers. This is Carol Phillips, your trusted Seniors Real Estate Specialist, Certified Probate Real Estate Specialist, and award-winning author of "Transitions With Dignity – A Six Step Blueprint To Help Your Loved One Embrace Change." Today, we're taking the next step in our journey, an exciting, yet emotional step – embracing the next forever home.
The Shift from Downsizing to Right-Sizing: A New Perspective
As we age, our needs and priorities change. A large home may become too taxing to maintain, and a two-story home may pose unnecessary challenges. The transition from a big house to a smaller space can seem daunting, especially when it's filled with a lifetime of memories. That's why I prefer to talk about 'right-sizing' rather than downsizing.
Right-sizing isn't just about reducing space. It's about planning for the next part of your life, focusing on what's essential, and asking the right questions. Do you still want the responsibility of maintaining a home? Would you prefer a community where most of the heavy lifting is done for you, and you can enjoy meals with friends, engage in activities you love, and have necessary services at your fingertips? It's about defining what 'right-size' means to you, so the other pieces can naturally fall into place.
Backward Planning: Starting with the End in Mind
Let's consider a scenario. Mom needs more help, and it's no longer safe for her to stay in her home. She wants her dog to move with her. Mom loves entertainment, good food, exercise classes, happy hours, and wants to be close to you. But she has no interest in cooking or yard work. With these preferences in mind and a clear understanding of what she can afford, you can begin to identify the right place for her.
Backward planning involves considering all these factors, along with other family members' concerns. These could be the availability of an on-site RN, housekeeping, a hair salon, accessibility to additional care services as required, or transportation for medical appointments or social events. By aligning your loved one's needs with the family's requirements, you can find the right place.
From Hope to Empowerment to Dignity
With a clearer vision of your loved one's needs and wants, it's time to empower your family and move forward with dignity. Use the Activities for Daily Living (ADL) assessment, the MOLO list, the needs and wants list, and your loved one's financial assessment to start researching the next 'forever home.'
Consider the case of Eric, where we spent a week navigating the systems to find him a better living situation. We faced hurdles – some communities could not accommodate Eric's needs, while others had no room available. But we persevered, and eventually, we found the perfect place that met all of Eric's requirements.
Embracing the next forever home may seem like a herculean task. But remember – perseverance, proper planning, and a focus on 'right-sizing' instead of downsizing can make this journey smoother and more fulfilling.
So, until our next step together, remember. We're on this journey to ensure a dignified transition for your loved one.
Warmly,
Carol Phillips
Seniors Real Estate Specialist and Certified Probate Real Estate Specialist in Phoenix
Author of "Transitions With Dignity, A Six Step Blueprint To Help Your Loved One Embrace Change"
[email protected]
CarolPhillips.exprealty.com
TransitionsWithDignity.com