TWD #18 Key Points From Step Two of the Transition Blueprint – Empowering Your Loved One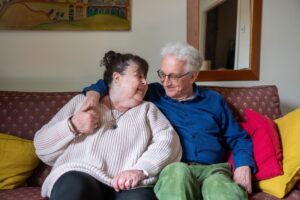 Hello, dear readers,
Carol Phillips here, your trusted Seniors Real Estate Specialist, Certified Probate Real Estate Specialist, and award-winning author of "Transitions With Dignity – A Six Step Blueprint To Help Your Loved One Embrace Change." Today, we are reviewing the second step of our journey, our aim is empowering your loved one.
The maze of senior living options can be daunting, but by engaging in some initial assessment, we can start to demystify the choices and prepare ourselves to ask the right questions. We do this not only to avoid overwhelming our loved ones but also to ensure that we're moving in the right direction.
Assessments: The Building Blocks of Decision Making
Before you start scheduling tours and visits to various communities, two key assessments should be completed:
Activities for Daily Living (ADL) Assessment – This helps us understand the level of assistance your loved one may need in their daily routine.
Financial Assessment and Inventory – This gives us a clear picture of your loved one's financial status and how it aligns with their care needs.
Don't forget to revisit your "What I Want" activities to keep everyone on track during these assessments.
Organizing Essential Documents: The Key to Seamless Transition
Starting the sorting process at home can be a daunting task. But, before you dive in, it's crucial to gather all the essential documents. The aim here is to compile these documents when your loved one can remember important details like their locations.
Create a well-labeled binder or folder for these documents. Trust me, having everything organized and easily accessible will save you a lot of stress in the long run. If needed, you can continue your research with your loved one's accountant, lawyer, and financial advisor.
HIPPA and End-of-Life Wishes: Empowering Your Loved One
One crucial document is the HIPPA release form. Even if your loved one has a will or health directive, this form ensures that you or someone in your family can act on your loved one's behalf when it comes to their health information.
Equally essential is discussing and documenting your loved one's end-of-life wishes. Not only will this provide peace of mind to your loved one that their wishes will be honored, but most communities will also want these in place before your loved one moves in, and they will check each year to make sure they are still relevant.
The journey to a dignified transition can seem overwhelming at times, but remember, each step you take is a step towards providing the best care for your loved one. Take each task one at a time, and you'll gradually find the path becoming clearer.
Until next time, stay strong, stay compassionate, and remember – we're in this journey together.
Warmly,
Carol Phillips
Seniors Real Estate Specialist and Certified Probate Real Estate Specialist in Phoenix
Author of "Transitions With Dignity, A Six Step Blueprint To Help Your Loved One Embrace Change"
[email protected]
CarolPhillips.exprealty.com
TransitionsWithDignity.com